Ok so because theres no uploads for these yet, I transcribed the Hub Q and A's with the boys (these are not the panels, just Hubs Q and A's)
MISHA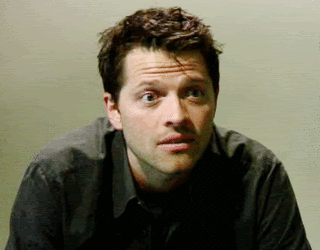 Interviewer: Alright this is Brett with Hub Productions were here with Misha Collins the star of Supernatural. Thanks coming out to Australia to see us Misha.
Misha: Its good to be here
Brett: Obviously your a fairly new character in the show just entering this most recent season um as an actor is it difficult to enter the show as a new character in somethingthat's already got 3 years of history behind it?
Misha: Generally speaking I would say yes it is hard. To come into a show that's established it rapport amongst the cast and crew already and the story line, and everybody sort of knows what they are doing, and your the new kid at school, you don't really know how you fit in. I've had that experience a lot doing guest work on other television shows but working on Supernatural has been great because they-everybody, cast, crew, production-everybody was incredibly warm and welcoming and made me feel pretty at home. It was still a moment of feeling like, is this; am I doing the right thing here? Not knowing if the tone of what I was doing was fitting in. But much more so then any other show I've ever worked on it was easy to settle into.
Brett: Oh good, coz um that opening scene with Castiel um that has made such a huge impact and its a very very popular scene with you entering. Did you sort of have any idea that uh Castiel would make such a good impression so early? Right from the get go?
Misha: No. I had no idea that Castiel would make any impression whatsoever. I mean I haven't really watched the show that much so I didn't know the canon, uh I didn't know the mythology of the show, I didn't know really the story line so I certainly didn't know that my character-my character had the potential to quite as epic as it turned out to be. So yeah when I came on I thought I was just doing a couple of episodes and then that turned into a few more episodes and a few more episodes and I didn't have any idea what to expect. Its been quite surprising, I had no idea I was going to end up in Australia nine months later-its pretty awesome.
Brett: Um, when..I mean obviously things are very fast on television, you got a get an hour in a week just about. Um with that do you get much time to sort of develop your character or is there sort of..created like yourself or a creative team working on that behind the scenes? Or how much is you or divided between the two?
Misha: I think because television is so fast paced, that um generally speaking the actor is expected to do most of the work on their character by themselves. Because everyone else in production-the producers, the writers, the directors; they have so much else to think about in such a short compressed period of time, that really its up to the actor to figure out their stuff on their own for the most part. And um I think there are sometimes some exceptions to that, but for the most part, you don't get a lot of rehearsal time, you don't get a lot ofconversation with the writers and producers about what they are doing. So it's lots of winging it and little tweaking as your shooting, but mostly you kind of got to figure it out on your own and you either sink or swim on your own merit you know.
Brett: And um with the story of Supernatural, there's a lot of mythology involved there, a lot of stories which come from actual history and from you know age old tales. Is there any sort of part of mythology-as you watch the show pretty quickly, is there any part of the mythology you sort of looked at and wanted to investigate further at all?
Misha: Um well I think the part of the mythology that I have been most interested in investigating further is the angel story line because it personally affects my character so much. My character being an angel, I want to know as much as I could about angels. I was surprised to find, I kind of expected would be some more kind of concrete almost biblical references to angels that was going to give me a much clearer portrait of what they were like. Um because I think in popular culture there's generally such um standard blue print for what we think of angels as being, and I kind of thought that was drawn on from you know seminal kind of religious texts, but as it turns out its pretty pretty vague. Its pretty uh, there's not a lot of material to work with. Um there are myths and legends and there's a few references in the bible in revelation, but um I think its pretty hodge podge-some of its from the old testament, some of its from the new testament, some of its from Islam, some is from Buddhism, Christianity, some is from you know from-some of the angel ideas we draw on are even from pagan history so its..its really kind of a pick choose thing were you can choose what you want to use and what you don't. So that was kind of fun.
Brett: Oh fantastic. Well thank you very much for taking the time to speak to us.
Misha: Sure
JARED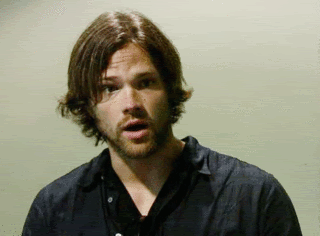 Brett: This is Brett with Hub Productions and we're here today with Jared Padalecki. Jared thank you very much for joining us.
(Jared says something here but my video is damaged and waves)
Welcome back to Australia, its our second visit here in less then 12 months
Jared: Yeah I know I'm a pretty lucky dude, so nine months straight out of work basically, and I love Australia. I was here last June and then I'm here again in May, so. (Lots of cheering from the background) I wish that cheering was for me but its for Misha so thanks guys.
Brett: Big congratulations on Friday the 13Th
Jared: Thanks man.
Brett: It's the biggest horror opening on record I'm pretty sure
Jared: Thanks (nods)
Brett: That's fantastic. Can I just ask, with a franchise like Friday the 13Th, um its almost got to the point in that franchise where Jason has a huge cult following for whatever reason.
Jared: Right
Brett: Is it sort of difficult to play the good guy in a film where most of the fans are actually rooting for the bad guy?
Jared: It is but its also tough to play the good guy when the bad guys the lead, because you know you wanna be like "I want them to want me to win"; but meanwhile you know they are going for Jason anyways, its like "whatever I'm just going to have a good time" you know. Like I wasn't in the movie to win an Oscar or anything like that, I was just there to have a good time and tell a fun story and get scared. I'm a big fan of Jason so I was like -Go Jason, go Jason, wait their calling act
ion I gotta run. So um...it was fun, it also takes some of the pressure off knowing that you know he is the star of the show.

Brett: More on Supernatural, because that's obviously why we're here today. Um you've actually commented on your fondness for the mythology of the show on several occasions, is there an sort of specific mythology that's been explored on the show were you sort of picked up a script, you read it and though that's really interesting and then you've actually on your own time gone and looked into it further?

Jared: Absolutely. I've looked into a lot of stuff further. I don't know where you all guys are, what's going on, Ill assume-You all have seen-

Brett: I'm up to date, up to America

Jared: OK good. There is actually a lot of mythology behind um drinking blood and like demon blood, summoning demons, stuff like that. I remember when we first started summoning demons, you can actually look it up online, people have stories on summoning demons and what its like and what to be more aware of and what your sleep patterns will be like and stuff like that. And so I kind of looked into that, that was interesting. Then um, its really amazing, they believe, there is a lot of um people that drink blood or you know ingest blood in some way, shape or form; believe that you take on the attributes of whoever your drinking the blood out of, so its kind of, its interesting to see how its going to play out knowing Sam and Ruby have kind of been dabbling at that, to see how far it takes Sam and to see how powerful this demon blood is against you know against regular blood. But other then that just classic story of the reluctant hero, that was what first got me into the show, because you know I grew up loving Star Wars and lately like The Matrix and the hero doesn't know he is the hero, or the chosen one. Like Neo or Luke Skywalker, he is just a dude, but all of a sudden he finds out- like I'm the one, I don't want this responsibility. But then ultimately how he learns the hard way that it is destiny, you know and every time he tries to run out that way, he is blocked here and it shoves him back this way and then there is again. So defiantly the arc-ha types.

Brett: And um with um, obviously there's a lot of CGI and stunts and prosthetics used throughout the show, um kind of to the point where you cant tell which is which, technologies gotten that good. Um for example your demon eyes in season two-

Jared: Yeah

Brett: Can I just ask, were they contacts or was that CGI and which usually do you prefer using on the show?

Jared: Um in season two the demon eyes were, were um, mostly contacts, but sometimes CGI. Like in your, if you'll see the black grow and then shrink back, that's obviously CGI but its going to be black for a while lot of times they will throw in contacts. Um I actually like having the contacts, it feels like its a cheat or something but for my sake, instead of them going like, "now open your eyes, and slowly blink and now they are black and back again". It just feels weird, you know-cut it, stick it in and have me be there, and then you feel weird and you kind of cant see and you almost feel like a different character. You almost feel....like I feel like a demon because the contacts have this little slit them but they are black, and the slit just goes over your pupil it feels like your looking through a straw or something but it makes you feel like other worldly, like you see those movies and its like predator vision or something like ohhhh! You know, so demon vision maybe its very of focused and pinpoint like that. So I like using contacts. But there is also, this episode this season we did, I think it was in Yellow Fever, my eyes flash yellow um because Dean thinks, um Deans thinking I'm a demon I think they flash yellow I didn't see the episode. Um they flash something color, so that was CGI. Mostly its CGI now days because the logistics of putting in contacts and taking them out, it can get lengthy, as opposed to fixing it post so the saying goes. So most of the time its done in post.

Brett: So your saying as an actor its often easier to work with stuff that's there as opposed to-

Jared: Practical, yeah they say practical. If its going to be practical it means literal, its going to be there. Uh your asking the demon eyes to be practical or they'll say it will be a visual effect. I like practical you know, I don't like swinging a fake sword or something like that, give me something to swing, feel the weight, you just get a different reaction.

Brett: Um obviously across the last four years you and Jensen have almost developed what is commonly known now as almost a sibling like relationship. But um when it comes to filming some of the more emotionally charged episodes does that actually make it easier or somewhat more difficult for you?

Jared: It makes it a lot easier, because he and I are also so comfortable with the characters and we know how to set the other one off, you know. You know its almost like we know you know, buttons because we are so close, we're friends so we kind of, I know how he works best and he knows how I work best so it makes it a lot easier in my book.

Brett: Alright so we will finish up right here, thank you so much for talking with us

Jared: Yeah, No worries man



JENSEN


Evan: This is Evan with Hub productions and we are in with Jensen Ackles. Jensen thanks for coming out to Australia.

Jensen: Thanks for having me.

Evan: No problem. Now congratulations on My Bloody Valentine that just came out recently. I was just wandering was there anything different about shooting in a 3D format compared to the usual film style?

Jensen: Absolutely. Its um, you've got two cameras mounted on a remote uh head so uh you constantly-the cameras are constantly calibrating themselves, you've got someone who is constantly calibrating them. Uh the lights are lot harder, uh hotter, you loose a lot of f-stops and stuff when your filming with two different cameras so the process of lighting was much longer. Its also shot in a wider format so you use to film like close ups and stuff and its all kind of wide and you want to feel more or the world around you so it kind of changes up the acting style a little bit- you cant, you have to be a little bit more expressive with your body language as opposed to just your face. So that was a little different, yeah.

Evan: Um just in Supernatural, that's why we are here.

Jensen: Yep

Evan: Um basically there's a lot of, you do a lot of fight scenes in the series, a lot involving CGI and some involving actual stunts. Is there any sort of one you prefer doing in the show or?

Jensen: We do actually a lot of practical stunts, uh there's not a whole lot of um visual effects. Really the visual effects we have are like sometimes you know the smoke, the demon smoke and things like that, um the actual fights and stunts and stuff,that's all practical. You know we get bumps and bruises and cuts and scrapes just like um anybody would doing stunts.

Evan: Um you've also had a of different guest stars on the show, is there anyone in particular you enjoyed working with more then any other?

Jensen: Well that's kind of the uh yeah interesting thing about dark shows with only two leads so every week is a whole new you know onslaught of new guest stars, so we get to work with a lot of different people, constantly. Um we've had a couple of reoccurrings that have been really great that we wished had stuck around, obviously Jeffery Dean Morgan played the father and it would have been great to tie him in, but the show wasn't the sons and the father it was about the two sons so ultimately he had to go. Um yeah you know to pick one of the giant bunch that we have, we've been very fortunate and had really really talented people on the show.

Evan: The episode with Ted Raimi was one of my favorites

Jensen: Yeah absolutely yeah. And you know Mitch Pileggi and um

Evan: Yeah that was great

Jensen: And those guys just yeah. We've been very fortunate.

Evan: Just one more thing. Obviously theres a huge mythology in the show that follows from everywhere at once. Has there ever been a script that you've read and you sort of thought wowthat's really interesting and you wanted to find out more about it? Like a monster or something?

Jensen: Well I mean its all fairly-to me the whole concept of the show is interesting. Um dealing with actual urban legends and we've kind of strayed away from that in the fourth season and its kind of become its own mythology in itself. But for the first season, two seasons, you know it was taking actual urban legends and folklore and um that was interesting, I learned a lot of stuff I didn't even know about existed sothat's a tribute to the writers and all their research.

Evan: Cool, well thanks for your time

Jensen: Good, thank you


And some people on twitter were interested in some caps so here you go lovelies. They are not frame by frame, I had to do them manually and they are probably not the best caps ever, they are all 1024 x 576, feel free to take them and do what you like with them. I would appreciate knowing if you find them useful or like them <3 Poor Jensen ended up with the least because I ended up deleting half of his because they all looked the same *pets Jensen*