BACCANO! ep.13; WHY DID IT END IT WAS SO AWESOME. >.<~~~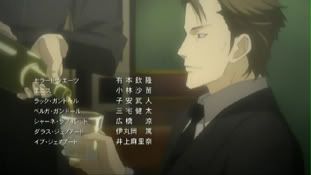 Have Mr. Takasugi Luck, lols.




This is what I would call a mafia! Firo kicked ass but there was a lack of him, boo, so I didn't feel that much for him in the end. But Dennis & Firo = OHMYGAWD SO CUTE EEE.



I so loved Jacuzzi in this episode, in the earlier one as well, but here he was just asgfahs;; I'm so shipping Shinpachi/Sa-chan now on. There was a secret about Jacuzzi & "respecting him more than anything etc" @ FS sometime ago and I didn't get it back then, but now I totally understand what it was about. He was so brave! ;3;




Czes. ASHGASJASGS THIS MADE ME CRY FOR REAL DAMN YOU dhsghjcgjd. I was so afraid that he'll end up tortured to death and something horrible but jsdhgjhxc;;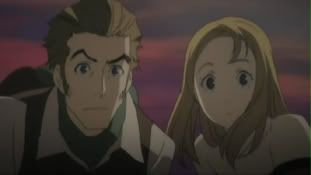 I WAS SO HAPPY WHEN ISAAC AND MIRIA FOUND HIM afgxklx ;;________;;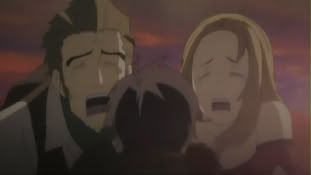 PLEASE ADODT HIM OR SOMETHING JUST SMILE AT HIM DON'T LEAVE HIM ALONE ANYMORE BAWWWWWWWWW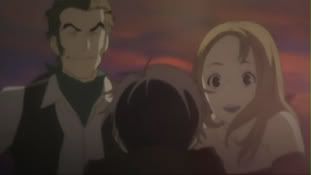 ISAAC & MIRIA I LOVE YOU I LOVE YOU I LOVE YOU SO MUCH THANK YOU dhsgasfgzx







........ BBBBBBBAAAAAAAAAAAAAAAAAAAAAAAAAAAAAAAAAAAAWWWWWWWWWWWWWWWWWWWWWWWWWWW


I'm so happy it turned out well.



And Claire! HO SHIT. He kicked so much ass in the last episodes oh gawd. If he hadn't done what he did to Czes, he would be my favorite character. But too bad, he did what he did and I hate him a bit for that. :x

But anyway, he's so awesome.
... + Him being so polite and prince-like towards Chane was so adfhjdskfkh; LET'S SAY ROMANTIC. It was. Seriously. .... BAWWWWWWWW.

In some episode they showed him running around the town with Firo and the boys after the trail trip, didn't they? Or did I just imagine it? I can't remember which episode.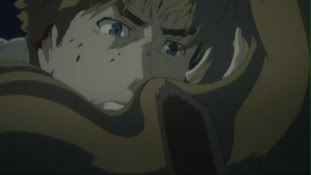 Lua & Ladd were so ... um, can't say cute but... in the end I respected Ladd as well. Even though he was such a monster and lolwtf.

One of the best things I have ever seen. I liked (or respected) every character ... except Eve & Dallas. They were just... wtf, don't care.

I want to watch it again. I want more! Marathon! Wah!